Starker Lectures
Starker Lecture Series: Based on current guidelines from the State of Oregon and Oregon State University to suspend gatherings of 25 people or more, the 2020 Starker Lecture Series, "Women of Forestry: Inspiring Leadership," is postponed until 2021. The theme will return next year and we look forward to the speakers and events that will make the series a huge success.
"Women of Forestry: inspiring leadership," focuses on women who act as agents of change within the forestry and forest products sector as well as within their communities. The College of Forestry graduated its first woman student, Pauline Barto Sandoz, 75 years ago. Today, the college celebrates the accomplishments of all women who are students, faculty, and alumni in our community as it strives to become a more inclusive space for all. This series will explore the triumphs of women as well as the myriad of challenges they face in forests, mills, research labs and beyond.
The Starker Lectures Series is sponsored by the Starker Family in honor of TJ and Bruce Starker, the Oregon Forest Resources Institute and the Oregon State University College of Forestry.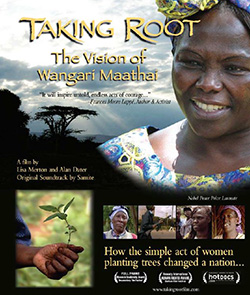 Film: Taking Root, the vision of Wangari Maathai
February 27, 2020
6:00pm
Taking Root tells the story of the Green Belt Movement of Kenya and its founder Wangari Maathai, the first environmentalist and first African woman to win the Nobel Peace Prize.
Panel Discussion: Issues at the intersection of gender and international forestry.
Beth Hahn, Wildlife Biologist, US Forest Service
Shamiso Mupara, Project Manager, Community Based Afforestion Environmental Buddies
Reem Hajjar, Assistant Professor, College of Forestry
Moderator: Interim Dean, Anthony S. Davis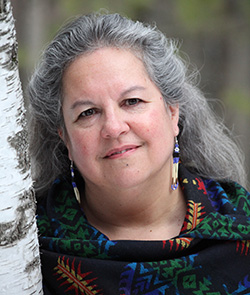 Lecture Topic: Women as change agents in Forestry
Speaker: Robin Wall Kimmerer, Plant Ecology, Ethnobotany, Traditional Indigenous Knowledge
Due to travel restrictions in place at the State University of New York in support of reducing the spread of COVID-19, the Starker Lecture Series event "Women as change agents in forestry," presented by SUNY Distinguished Teaching Professor Dr. Robin Wall Kimmerer, has been postponed from its scheduled date of March 16th. The lecture will be rescheduled at a later date.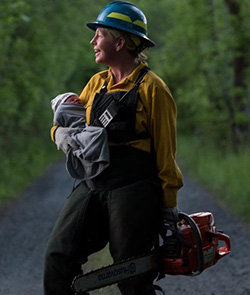 Lecture Title: Pyrocultural Forestry: Connecting People and Nature Through Fire
Speaker: Amanda Rau, Burn Boss & Fire Manager, The Nature Conservancy
Cultural use of fire has long influenced natural landscapes throughout the world, providing humans with important resources and connecting them with nature, in addition to moderating wildfire risk. In many places, such as the Willamette Valley, pre-contact biodiversity of prairies, savannas, and woodlands wholly depended upon frequent indigenous burning as often as every year. The burning practices of the indigenous peoples of southern Oregon and northern California met natural ignitions to maintain some of the most resilient and biodiverse forests in North America. Forests and rangelands alike have long been shaped by the coalescence of natural ignitions and indigenous burning practices.
Colonialism is largely to blame for the cessation of anthropogenic fire in North America. Fire exclusion, including suppression of forest and rangeland fires caused by lightening as well as the cessation of indigenous burning, was mandated in the US after the fires of 1910. The dire consequences of fuel accumulation that resulted from this approach became apparent before the century was over. As a response to the wildfire problem that we all face today, prescribed fire offers the direct benefit of wildfire hazard mitigation, as well as opportunities for people from all walks of life to connect with nature and how it is affected by different kinds of fire.
Lecture Title: The Road Less Traveled: How women in forestry can save the world
Speaker: Edie Sonne Hall, Founder and Principal, Three Trees Consulting
Lecture Description: Hall will weave together a series of personal stories and lessons learned that demonstrate the importance of women having courage, confidence, collaboration, and compassion to harness the power of trees to create a world with global population living well within the limits of the planet.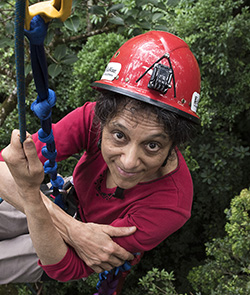 Capstone Workshop
Theme: Women of Forestry
Join us  for the capstone experience to this year's Starker Lecture Series. Throughout the day, we will explore all aspects of forestry with a focus on women's leadership and the future of women in the forestry and wood products industry. Activities include:
A series of panels hosted by women in the forestry and wood products industries will explore forest foundations, management, community integration, and what the future looks like.
Time to explore resource booths from vendors
A mentor-mentee coffee that will allow space for participants together and chat and form new relationships.
A lunch and keynote from Nalini M. Nadkarni, professor of biology at the University of Utah, canopy study pioneer and creator of TreeTop Barbie.
The Starker Lecture Series takes inspiration from the Starker Family's history of leadership in supporting sound forestry and vibrant communities through scientifically grounded education and positive, sustained action. The Starkers' long-time recognition of the value of closely observing and learning from actions and outcomes "in the woods" also inspires an integration of technical knowledge with practical, on-the-ground experience. An emphasis on issues and opportunities in the active management of forest resources, through lectures, in depth discussions, and field based events, will further honor the unique and exceptional example provided by the Starker Family.
All lectures are free and open to the public. The lectures will also be available via streaming video from this web site. A reception will be held immediately before the lectures. A capstone workshop will be held after the lecture series is complete to deepen the practical understanding and discussion of the lecture topics.