Interview Schedule
Associate Dean for Science Outreach and Program Leader for Forestry and Natural Resources Extension

*Please complete candidate feedback forms by Friday, October 29; see links below.
**Zoom information & recordings links require OSU login to access the Box file; email the search administrator if you do not have an OSU login, but would like access.
Wednesday, October 21: Holly Ober    CV | Feedback Form | Recorded Presentation
Dr. Holly Ober currently serves as Associate Program Leader for Natural Resources for the University of Florida Cooperative Extension Service. In this domain she provides leadership for ~150 county and state faculty. She is also a Professor and Extension Specialist, conducting applied, interdisciplinary research to increase understanding of the mechanisms that influence wildlife habitat selection and productivity in forests, with the intention of informing conservation and management strategies. She has raised over $2.2 million in external funding and nearly $300,000 in internal funding; advised 11 graduate students, 3 undergraduate interns, and 2 post-doctoral researchers; and authored 42 peer-reviewed articles in wildlife, forestry, and inter-disciplinary journals.
As an Extension Specialist, she teaches agency employees (county/state/federal) and private landowners to sustainably manage natural areas and improve stewardship of forests to provide habitat for wildlife. To date, she has led >60 multi-day Extension workshops for natural resource managers, given >180 presentations to Extension audiences, produced 49 peer-reviewed Extension documents downloaded >410,000 times, and written several journal articles on the scholarship of Extension. She also serves as an elected officer for numerous state and regional professional societies.
Friday, October 23: Greg Ettl     CV | Feedback Form | Recorded Presentation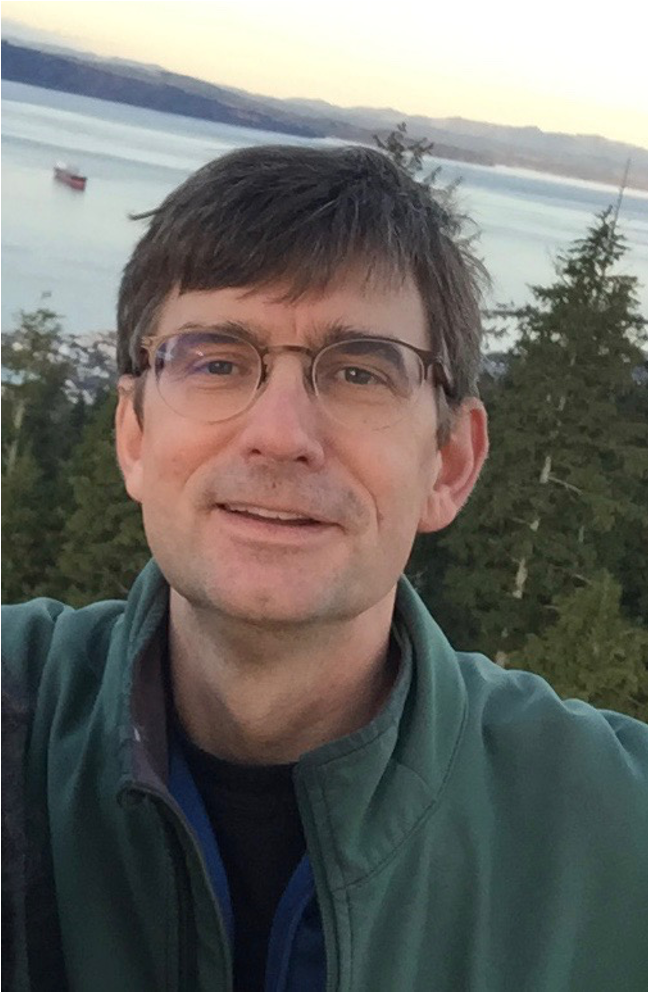 Dr. Gregory Ettl is Director of the Center for Sustainable Forestry at Pack Forest in the University of Washington's School of Environmental and Forest Sciences. As Director he oversees management of a 4,300-acre working forest, as well as research, education, and outreach activities. He founded a residential science program called the Mount Rainier Institute (MRI) in 2013, which served 1,200 middle and high school students in 2019; the program aims to provide field-based science experiences to underrepresented students. He has also served as the Associate Director of the School of Environmental and Forest Sciences, Director of the Stand Management Cooperative, and Director of the Precision Forestry Cooperative at the University of Washington.
Prior to joining the University of Washington's faculty in 2006, he held faculty positions at St. Joseph's University and Warren Wilson College, and has taught a breadth of courses from organismal biology, wildlife conservation, silviculture, to community forest ecology. His research focuses on sustainable forestry including: silviculture, ecophysiology, ecosystem services, forest responses to climate change, agroforestry, and forest ecology.
Wednesday, October 28: John Punches     CV | Feedback Form
Dr. John Punches is an Associate Professor in OSU's College of Forestry, Department of Forest Engineering, Resources and Management. He holds degrees in Forestry (Michigan Tech), Wood Science and Forest Products Marketing (Virginia Tech), and Forest Ecosystems and Society (Oregon State). John joined OSU's Extension program 1994, serving initially as a forestry and forest products agent in Douglas County. Extension leadership duties were soon added to the mix and grew over time. He became a full-time Area Chair in 2008 and a Regional Administrator in 2011. He transitioned back to Extension Forestry in 2018 and is currently the Extension Forester for northeastern Oregon – focusing on collaborative efforts to enhance forest resilience.  
John is an avid teacher, curriculum developer, and partnership builder. He led successful stakeholder efforts to establish stable funding for Extension programs in Douglas and Lane Counties, and was honored recently to be recruited as the lead writer for a Collaborative Forest Landscape Restoration Program proposal which was ranked number one nationally. John balances work with family life, volunteers for search and rescue, and spends as much time as he can in backcountry and mountain terrains.
Public Presentation: 9:00-10:00am | Zoom Information | Recording
Open Forum for Faculty, Staff, Students: 3:00-4:00pm | Zoom Information
 Thursday, October 29: William Hubbard    CV | Feedback Form
Dr. William (Bill) Hubbard received degrees in forest management and forest economics at the University of Florida where he studied the impact of professional forestry assistance on timber returns to family forest owners in North Florida. From 1988 to 1993 he served as a University of Florida Extension forester with responsibilities in forest management and urban forestry. In 1993 he accepted the position of Southern Regional Extension Forester serving thirteen southern Land Grant forestry and wood products programs and the USDA Forest Service. He earned a Phd in Adult Education and Program Evaluation from the University of Georgia's Department of Lifelong Education, Administration and Policy in 2010 and studied the impacts of education on the behavior of participants of the Master Tree Farmer Distance Education Satellite Video Series. Dr. Hubbard has authored or co-authored over 100 refereed, popular or Extension publications in his career, he has been active in several professional societies including the Association of Natural Resource Extension Professionals (ANREP) where he served as President and Executive Secretary, the Society of American Foresters (SAF) where he was elected Fellow in 2018, and the International Union of Forest Research Organizations (IUFRO) where he is current Deputy Director of the Extension, and Knowledge Exchange (EKE) Working Party.
After 25 years at UGA, Dr. Hubbard accepted the position of State Program Leader and Assistant Director, University of Maryland Extension with responsibilities in the environmental, natural resources and Sea Grant programmatic areas.  He currently provides administrative leadership to Maryland's diverse natural resources programs including forestry, wildlife, wood products, fisheries and aquaculture, watershed, energy, climate and home horticulture/Master Gardener programs.  These programs include over 30 faculty and staff members within the College of Agriculture and Natural Resources and throughout the state of Maryland.
Public Presentation: 9:00-10:00am | Zoom Information | Recording
Open Forum for Faculty, Staff, Students: 3:00-4:00pm | Zoom Information
Questions? Contact Adrienne Wonhof, search administrator
About the Search Committee
Troy Hall, Co-Chair, Department Head, Forest Ecosystems & Society, College of Forestry
Eric Hansen, Co-Chair, Department Head, Wood Science & Engineering
Francisca Belart, Assistant Professor & Extension Specialist
Fran Cafferata Coe, External Member, Wildlife Biologist, Cafferata Consulting
Michael Collins, Director of Communications & Marketing
Steve Fitzgerald, Professor & Extension Specialist, Director of the College Research Forests
Lauren Grand, Assistant Professor and Extension Agent
Katy Kavanagh, Associate Dean for Research
Shannon Murray, Program Manager, Continuing & Professional Education
Nicole Strong, Extension Regional Director
Wiley Thompson, Search Advocate and Extension Regional Director
Adrienne Wonhof, Search Administrator, Director of Administration and Operations
Position Summary
The Oregon State University College of Forestry seeks an Associate Dean with program oversight of our Science Outreach and the Forestry & Natural Resources Extension. As a member of the senior leadership team in the OSU College of Forestry, the Associate Dean is responsible for leading, administering, and growing innovative and relevant Extension, science outreach, and continuing and professional education programs that foster and solidify the College's standing as a leading academic institution. This position is charged with providing executive and policy leadership for oversight of College forests and will guide and support Extension and outreach efforts to address a changing environment and contemporary needs.
One-page Announcement | Long Announcement
Responsibilities
The Associate Dean will work in a close team environment demanding flexible, daily engagement in multiple activities while also being accountable for progress on priorities that require cooperation and collaboration with multiple internal and external stakeholders. The Associate Dean will coordinate efforts to continuously integrate science into outreach and Extension. This senior leader will share responsibility with all members of the College in fostering a diverse, equitable, and inclusive place of work and study, including in our outreach activities and Extension programming.
The need for direct, active and honest attention to equity, inclusivity and diversity is as urgent today as ever. Our world faces social, economic and environmental challenges of unprecedented complexity and scale. The College of Forestry is committed to addressing those challenges in the realm of forestry and natural resource management - whether it be through education, research or public engagement. We intend to draw fully and inclusively on the power and force of human imagination, experience and creativity to meet the needs of today's world.